6 Season Of The Deep Weapons In Destiny 2, Ranked
Season 21 of Destiny 2 brings back the much-desired Taken style for seasonal weapons, but how excellent are the archetypes and perks?
Season of the Deep in Destiny 2 begins with an aquatic theme that provides yet another set of seasonal weaponry. The focus this time is clearly centred on the darkness sub-classes, with the majority of weapons available being either Stasis or Strand, with one weapon falling into the Void category.
All of these weapons have a cool Taken look, and they come with a new Origin Trait called Unsated Hunger, which improves reload, handling, and stability when players' ability cooldowns are depleted. It's a really uncommon Origin Trait in a game where ability spamming is the norm. Furthermore, the archetypes appear to be a touch weak this season 21 (particularly for PVE), but bear in mind that this list is based on first impressions, and these weapons may find greater utility as the season develops.
Thin Precipice Sword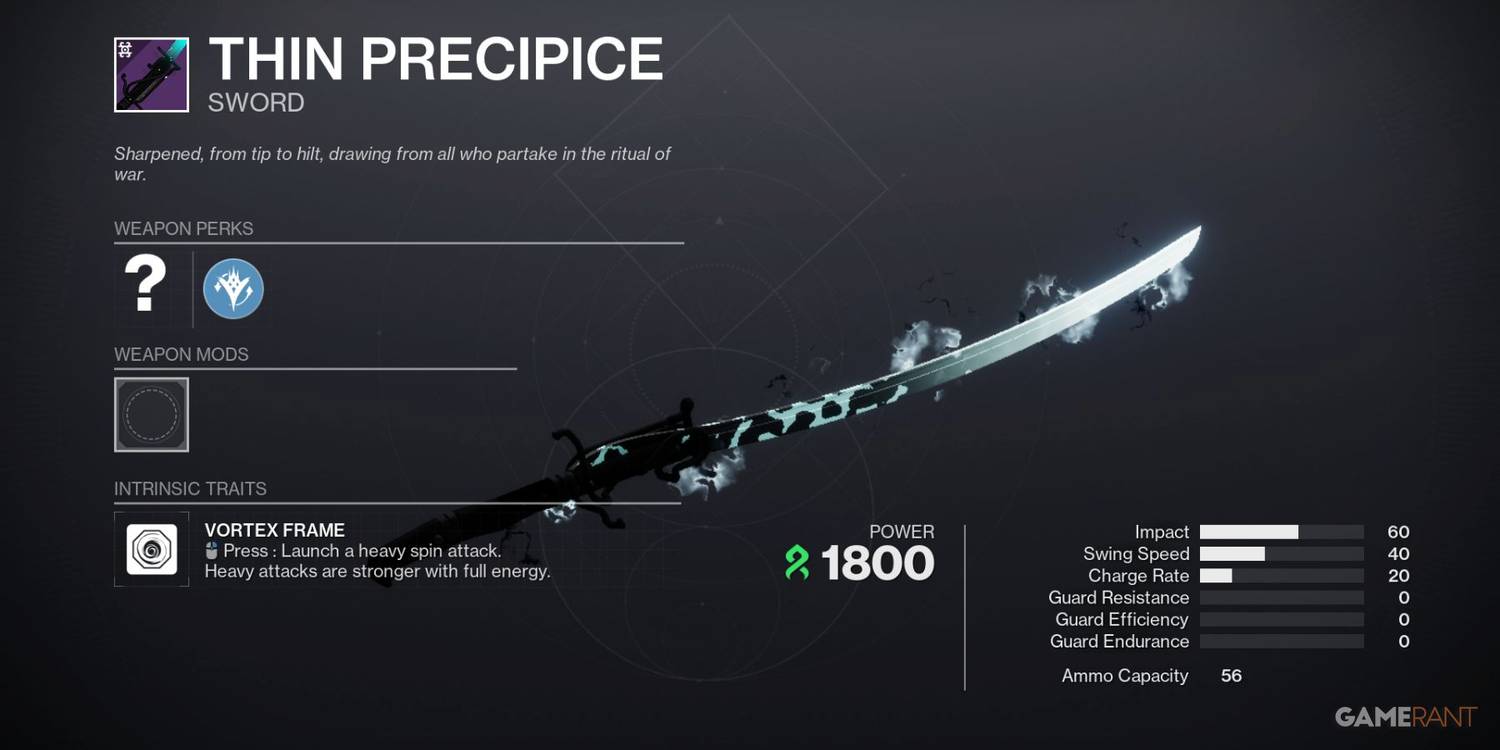 It's no secret that swords in Destiny 2 still need a lot of help, which is why the new Thin Precipice Strand blade is at the bottom of the list. Swords are rarely used in difficult PVE content, with the exception of those that come with the Eager Edge perk.
Having saying that, individuals searching for a decent roll on this one-of-a-kind Strand sword have a few possibilities. Players can choose Valiant Charge from the first column for that extra lunge distance, and there are several interesting possibilities in the second column, ranging from Hatchling to Adrenaline Junkie to Golden Tricorn.
Targeted Redaction Hand Cannon
Hand cannons still require some assistance as an archetype, particularly on the PVE side of things. Targeted Redaction doesn't have the most encouraging numbers. And the recoil can be off-putting for many Destiny 2 players due to its Aggressive Frame.
Fortunately, the perk pool for this Void hand cannon is quite good. The first column contains Outlaw, which is a great favourite for hand cannons in general and would arguably outperform the other available perks. Explosive Payload, Destabilising Rounds, and Frenzy are all excellent PVE options. As is the new Collective Action perk, which makes use of elemental pickups.
Rapacious Appetite Submachine Gun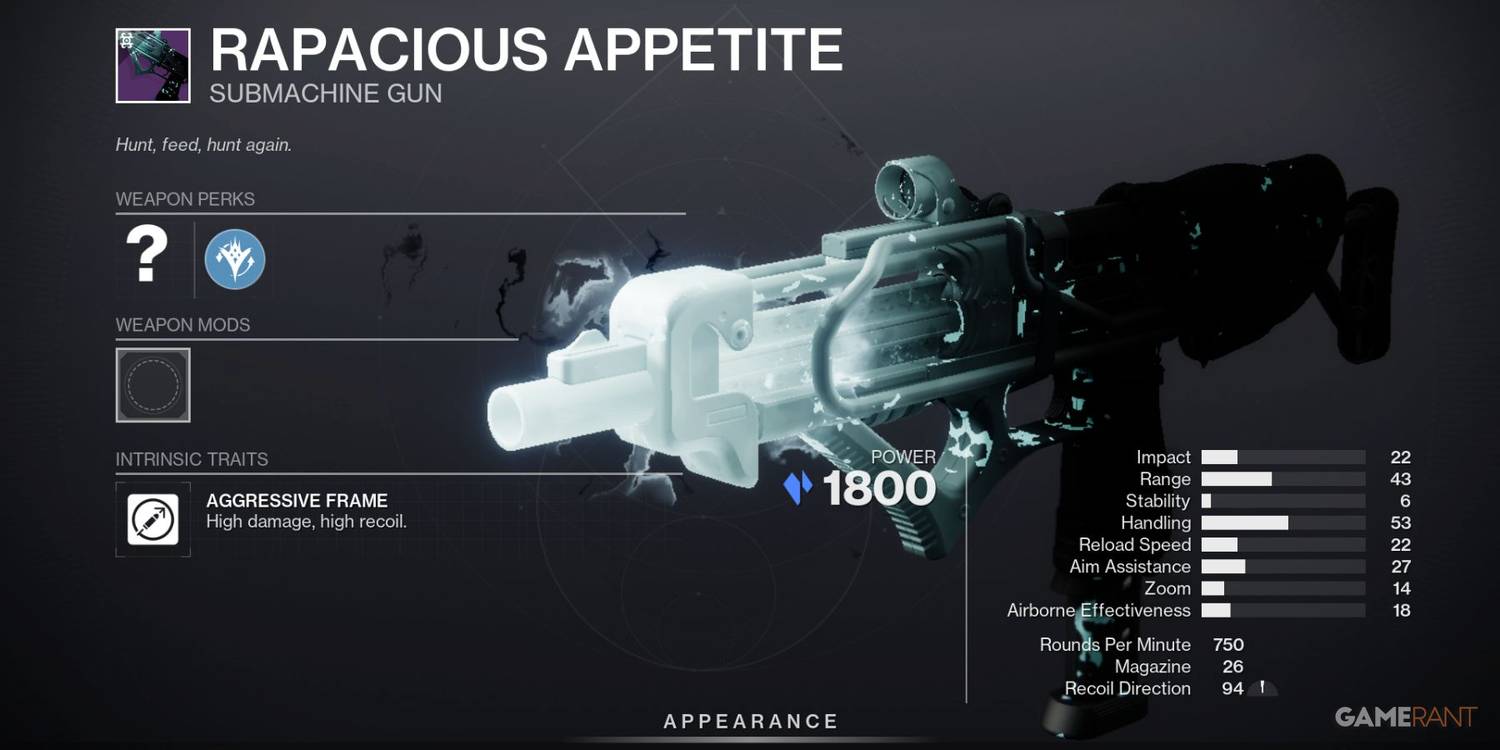 SMGs received a slap on the wrist in the most recent patch. Which no longer provides Stasis SMG Rapacious Appetite services. It has a strong recoil, which is extremely undesirable for SMGs in general, both in PVE and PVP, and severely limits its efficacy. There are just many superior alternatives available.
Still, if players are relying on it as their sole Stasis SMG, the following perks should be selected. Target Lock (as learnt from the Immortal craze last season), Frenzy, or even Headstone for those Stasis-oriented setups. Perpetual Motion defeats Fourth Time's the Charm in the first column because to its incredible recoil.
Different Times Pulse Rifle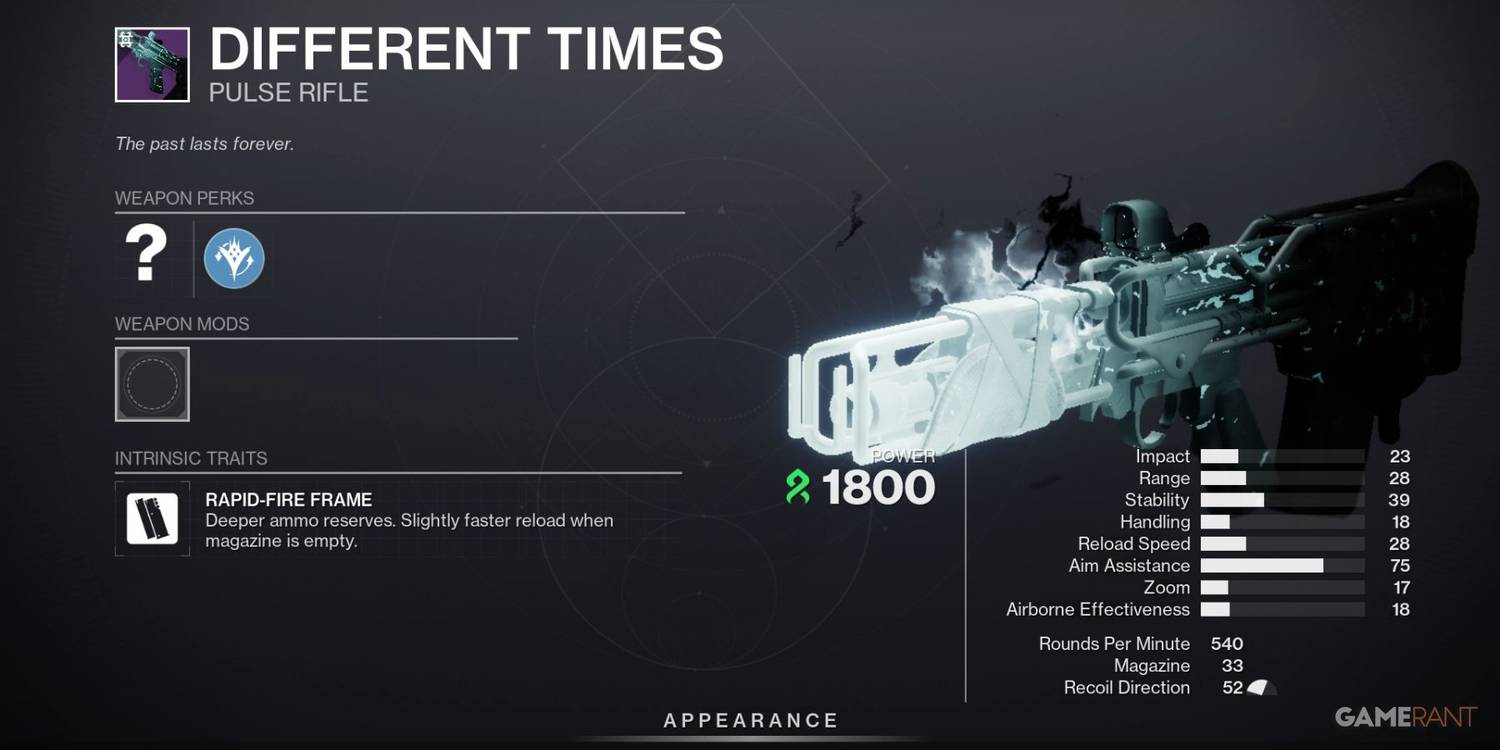 Pulse rifles, another new Strand weapon this season, are under jeopardy because to the rise of auto rifles. The barrel and magazine perks don't do much to improve the relatively disappointing beginning stats. Where Different Times really shines is in its perk pool.
Given that it can compete with Subsistence, Moving Target, Heating Up, and Outlaw in the first column, as well as Hatchling, Headseeker, and Golden Tricorn in the second, it could be a good pick for anyone who can't get their hands on a Strand auto rifle or simply prefers the fast-firing bursts of this rapid-frame pulse.
Until Its Return Shotgun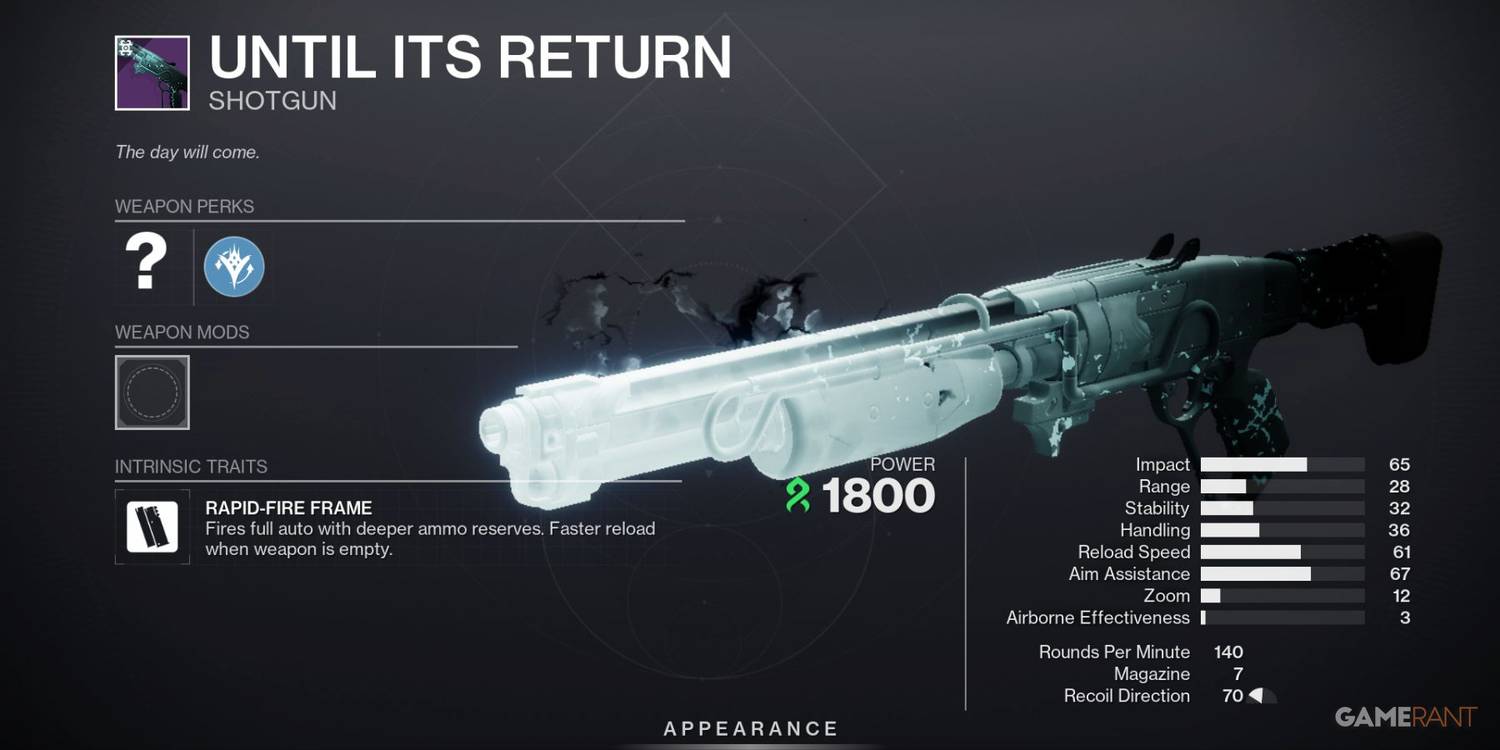 Shotguns are becoming more popular as a result of the Root of Nightmares raid, which brought Nessa's Oblation and Conditional Finality. Both are fantastic shotguns, and while the Until Its Return Strand shotgun doesn't quite reach the same heights as the others, it's still a good buy this season.
Its Rapid-Fire Frame gives it a faster reload time when empty, as well as good ammo. Smoothbore and Accurized Rounds may be acceptable in PVP because to the perks Overflow and Trench Barrel. Auto-Loading is available for those that like PVE, as is Threat Detector for up-close-and-personal engagements. In the second column, Vorpal Weapon and Surrounded are also excellent PVE options.
A Distant Pull Sniper Rifle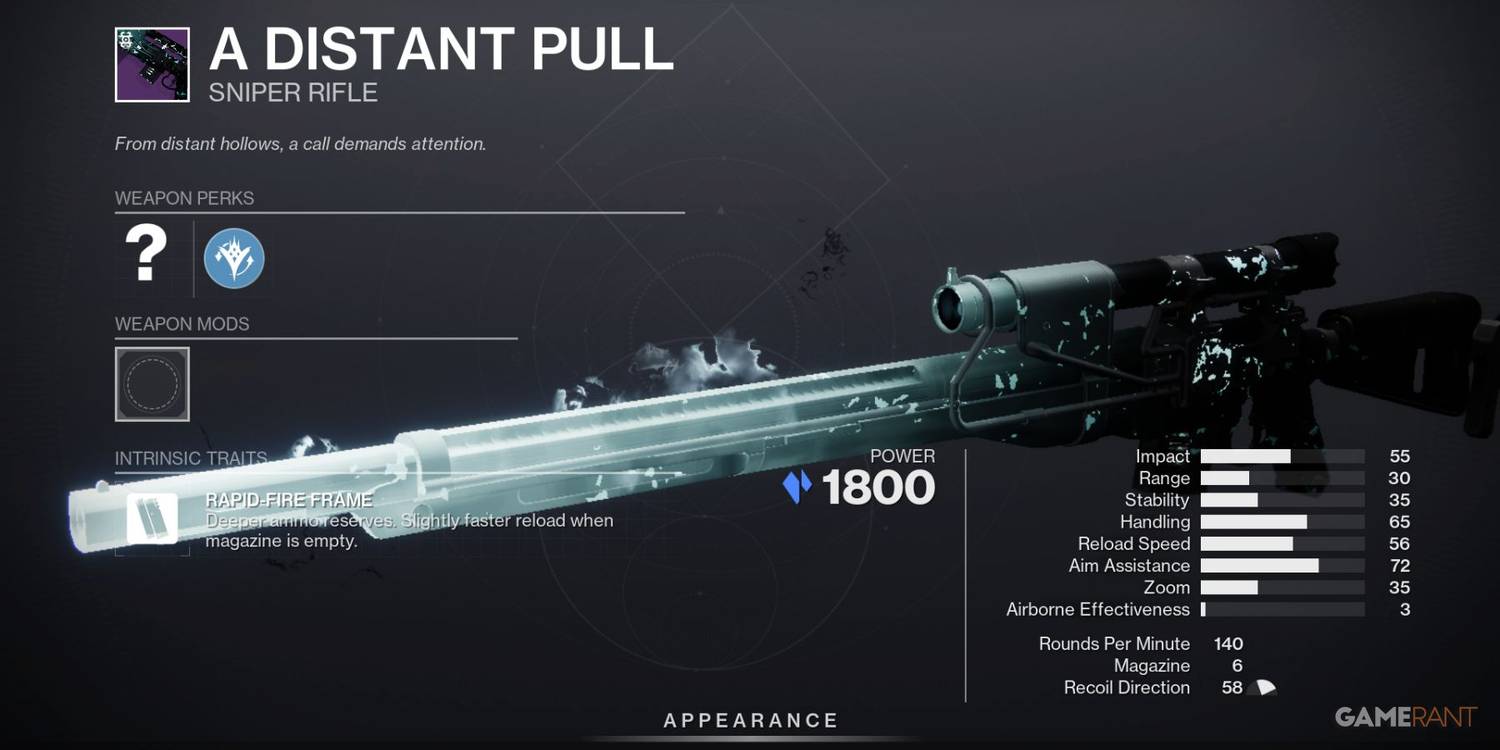 A sniper at the top of a weapon list may seem unheard of. And this placement may be based solely on hope. However, with the recent enhancements Bungie has made to sniper rifles. A Distant Pull Stasis sniper rifle could be onto something.
It's not the best sniper rifle in Drift Boss game, but the perks appear promising: the first column includes Triple Tap, and the second column includes outstanding precision weapon perks like Opening Shot, Focused Fury, and Explosive Payload. Headstones are also acceptable for people who want to stand out from the crowd and attempt something new. With snipers providing 10% higher damage to PVE foes overall. It remains to be seen whether this weapon can make a difference or if it will fizzle out.
Destiny 2 is now available on PC, PS4, Xbox One, PS5, and Xbox Series X/S.